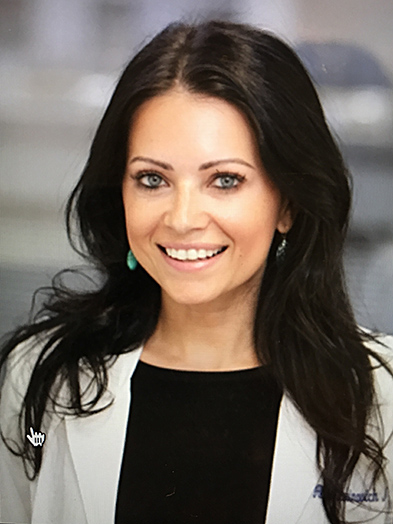 Dr. Alina Rabinovich
Dr. Rabinovich is a Board Certified Neurologist specializing in Multiple Sclerosis with over a decade of experience. She completed her residency training at Mt. Sinai Medical Center, New York, NY and her fellowship in Multiple Sclerosis at UMDNJ, Newark, NJ. She served as faculty attending, co-director and then director of Linda Morgante Multiple Sclerosis Center at Maimonides Medical Center. She also served as faculty attending in the Department of Vascular Neurology, and has extensive experience in managing headaches.
Her area of expertise also includes treating patients with pain syndromes, ADD/ADHD, concussions, and seizures. She specializes in Botox therapy for various neurological ailments, including Migraines, muscular pain and spasm, spasticity caused by Stroke and Multiple Sclerosis (MS), Dystonia, teeth grinding/TMJ, Hemifacial spasm (HFS), as well as for Excessive Perspiration. She uses Botox and Fillers to correct asymmetry of the face caused by Stroke, MS, HFS, Bell's palsy, as well as other conditions.
Dr. Rabinovich also has extensive experience in evaluation and treatment of Memory changes, Alzheimer's disease and other Dementias, Disorders of the Muscles and Nerves such as Myopathy and Neuropathy, Dizziness/Vertigo, Imbalance, Herniated discs, Carpal tunnel syndrome, and Tremors.
Dr. Rabinovich is an expert in purely Cosmetic Enhancement of the face using Botox and Xeomin, as well as Dermal Fillers such as Juvederm, Radiesse, and others. Being a Neurologist and a woman, and using these products herself, gives her a unique perspective and skill to perform these procedures with exceptional results and safety. Her MEDISPA IS A NOVEL creation of injection and cream treatments.
Dr. Rabinovich uses most advanced therapeutic techniques to provide the highest quality of care. She is also a guest lecturer at patient and other physicians lecture programs and journal clubs on Multiple Sclerosis and Headaches.
In our office, we believe in Personalized Concierge Care that avoids rushing patients. Dr. Rabinovich believes in custom tailored approach for each patient which includes detailed history and exam, extensive discussion regarding diagnosis, testing, and management, while spending ample time with each patient. At the request of the patient we are able to get family involved for support via conference calls, and we make ourselves available for acute visits. Our office staff is compassionate and caring, and we treat our patients like family.
Dr. Rabinovich is a member of American Academy of Neurology. She also yearly participates and contributes to MS Hope Day and other events.
Certification
Diplomate of the American Board of Psychiatry and Neurology (ABPN)
Languages spoken
English, Russian
For an Appointment
Contact Our Office
212.759.5596